Tips for moving with pets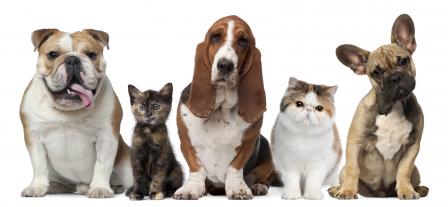 Ensure your pet has a sturdy collar with a properly labeled identification tag.
Secure veterinary records.
Has your pet been vaccinated? Do you have all your pet's medications, health certificates?
Keep medications, treats and extra food handy for your pet in case of an emergency.
Consider asking your vet for an extra prescription refill before you move.
Moving can be traumatic for a pet. Keep your pet in a secure, comfortable, well-ventilated place, especially if professional movers are helping you relocate.
Ensure the integrity of pet crates before your move; otherwise, a nervous pet could injury themselves and/or get lost.
Prepare a pet first aid kit; such as your vet's telephone number, gauze, adhesive tape for bandages, non-stick bandages, towels, hydrogen peroxide, etc.
Transport pets safely in a crate or restraining harness. When it comes to cats, it's always better to use a well-ventilated cat carrier. Secure the crate or carrier with a seat belt and provide your pet with familiar items. Purchase enough kitty litter before moving and feed your pet its regular pet food on schedule.
If traveling by air, check airline pet policies and restrictions to ensure a safe and comfortable trip for your pet.
Call the local veterinary medical association (VMA) for veterinarians in your destination.
Prepare your new home for your pet's safety. Like people, pets are often frightened and uneasy in their new surroundings.
Learn about your new area's laws and regulations ahead of time, such as HOA policies, leash laws, vaccination requirements and health certificates, etc.