Home Selling Process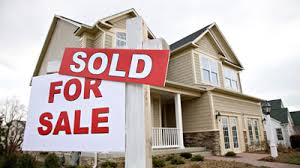 1. Your local Next Day Home Sales® listing broker/agent will help you choose one of our flexible listing options that's right for your particular selling situation.


2. Once we receive your signed listing paperwork at our first face to face meeting, we immediately list your home (either as "coming soon" or "active") in the Multiple Listing Service (MLS) and thru "smart" listing syndication technologies* (including the top places where REALTORS® place their listings – Realtor.com®, Zillow® and Trulia®.)** We also immediately send mass "auction style" e-mails to alert local buyer's agents and their brokerages of your "coming soon" or "active" MLS listing and their higher buyer's agent commission.


3. We actively market your listing to the widest possible homebuyer audience thru our network access to up to 300,000 real estate professionals (including top luxury buyer specialists and other High-End Brokers) to generate the maximum number of "asking price" offers or higher on your single-family home, townhome, condominium, investment property, or luxury home in the shortest period of time to get your home sold for top dollar anytime of the year, whether you're in a buyer's market, a seller's market, a short-sale market, or a foreclosure market.


4. We actively listen to your selling objectives and use real-time data to help you make an informed selling decision and to set your home sales price right the first time given current market conditions and comparable properties in your area.


5. While your home is listed with us, we use smart technology to network with thousands of top buyer's agents nationwide from leading independent brokerages and large multinational franchises (such as Berkshire Hathaway HomeServices®, Century 21 Real Estate®, Coldwell Banker Real Estate®, Keller Williams Realty®, Long and Foster Real Estate®, RE/MAX®, SOTHEBY'S International Realty®, Weichert Realtors®) and help connect you with local buyer's agents offering the best home buyer rebates and incentives that best fit your home-buying needs and who are ready to work with you in the purchase of your next single-family home, townhome, condominium, investment property, or luxury home anywhere in the United States and abroad. For a complete list and explanation of rebating practices: Rebates by State. A typical Cash Rebate can be calculated using the following: (Sales Price) x (Buy/Sell Commission %) x 20% = Cash Rebate.


6. You should begin prepping your home for sale.


7. We take photos and/or a virtual tour of your home and upload them into your listing to properly showcase your home. Enjoy your Saturdays and Sundays – we do not hold Open Houses***.


8. Only serious pre-approved buyers should physically view the inside of your home, otherwise, photos and/or a virtual tour showcase your listing to others.


9. We use smart technology to offer sellers an added convenience by allowing you to receive text messages on your mobile device when your listed property has a showing request. Upon receiving the text message, you can respond back with a simple YES or NO to setup or decline the showing of your home to ensure you and your family's safety, security and privacy.


10. An OVERSIZED Next Day Home Sales® "For Sale" sign will be posted on your property (in accordance with applicable zoning ordinances and community association regulations) and a "SentriLock" REALTOR® lockbox will be placed on your property to allow real estate licensees to show your home at times convenient to you. Our OVERSIZED easy to spot yard signs in front of homes are instantly recognizable by buyer's agents and means higher buyer's agents' commissions for them at closing when they aggressively market and sell your home before other comparable properties in the local market!


11. Your Next Day Home Sales® listing broker will touch base with you regularly to keep you informed. We are passionate about delivering exceptional seller experiences.


12. We follow up with buyer's agents and negotiate hard to get you the best price for your home to meet and exceed your home selling needs in any market, 365 days a year.


13. Digitally E-sign documents safely and securely from the convenience of your home, office, mobile phone, or anywhere you have internet access to speed up contract ratification and your settlement date. (optional – you may opt to sign documents in-person)


14. We help walk you through the closing process.


15. Settlement and your home is SOLD!


Call Us: (240) 495-5726, or contact us using the form if you want to sell a home or if you have any questions or concerns. We will get back with you shortly.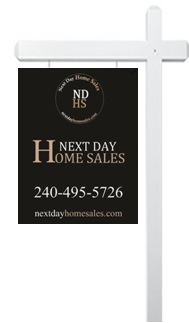 *Listings are placed on key third party publisher partner sites including websites operated by leading real estate franchise organizations and other membership-based broker and real estate social media networks for display on their national websites.




**Source: 2013-2014 REALTOR® Technology Survey.




***Source: NAR PROFILE OF HOME BUYERS AND SELLERS 2014. According to research from the National Association of Realtors®, a mere 9% of home buyers surveyed said they found the house they purchased through an open house.

We believe motivated buyer's agents help sell more houses than Open Houses do. Read REALTOR.com's "The Dirty Secret About Open Houses: They're Not About Selling Houses by Chrystal Caruthers". "The real reason agents' line up to do open houses is to recruit clients. Open houses are training and recruiting platforms for new agents, or agents who do not yet have listings of their own. Yes, they exist to sell homes, but they also exist to sell brokers. Brokers want unrepresented buyers to fall in love with their charm, their knowledge of the neighborhood, and their marketing prowess, all so they can represent the buyer walking through the door, whatever home they wind up buying. Your house is the agent's best free marketing platform around."